Managing cash flow is a delicate balance for any business. This can be even more challenging when companies experience late payment of invoices. Getting invoices paid on time is a common issue for businesses of all sizes, and it has a direct impact on everyday operations.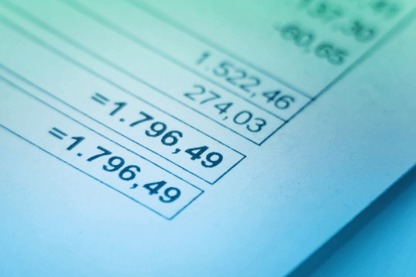 According to a study by Pay.UK, companies experienced £23.4 billion in outstanding late payments in 2019. Another survey by accounting software provider Xero also highlighted many businesses have late payments worth almost £25,000 on any given day.
These figures are staggering, and due to the pandemic, a survey by The Office for National Statistics found that around 54% of businesses said they were waiting on payments of invoices as a result of COVID-19.
Late invoice payments are a common occurrence for many businesses. Plus, putting aside the pandemic situation, research by Sage suggested many companies don't have a reason why they pay late. So, how do SMEs weather these periods of uncertainty and imbalanced cash flow?
Take a look at what options are available to support your business operations and finances:
What can you do if an invoice is not paid?
A great place to start is incorporating a streamlined credit chasing facility. However, this is not a sure-fire way to get overdue invoices paid on time. For businesses that require more flexibility and speed to ensure fluid business operations, invoice finance is an excellent solution.
Invoice finance is a popular option for organisations as an alternative to overdrafts and bank loans. It provides a straightforward and quick way to access funds from invoices to keep cash flow stable.
Key factors for SMEs when choosing invoice finance
Invoice finance is a viable solution for many businesses. It can be both helpful and essential to everyday operations. Some key factors to explore when deciding whether invoice finance is suitable for your business include:
Stabilising revenue: If your business experiences irregularities in cash flow due to overdue payments, invoice finance can stabilise this. Rather than waiting until payment due dates, a percentage of invoices are drawn down immediately to free up cash for more predictable forecasting.
Potentially reduce bad debt: Some companies also experience a reduction of bad debt due to a streamlined credit chasing facility.
Accessing the right funding
The average high-street bank has narrowed its position on lending in recent years, and more so due to the pandemic. To get the right finance partner for your needs, a finance broker is an ideal option compared to going to the bank. You will gain access to a range of invoice finance options for your business, including options for you to handle credit control or hand the whole process over to the lender.
Invoice finance funding via an independent broker also speeds up the process of gaining access to cash and provides more flexibility than traditional options.
The rise in invoice finance funding for SMEs
Invoice financing has played a significant role in helping companies continue with little disruption throughout the pandemic. TSF Finance has assisted several businesses with invoice finance solutions, including supporting a wholesaler to scale up operations and secure a large contract. Having access to immediate funds enables organisations to not only stabilise cash flow but also plan growth strategies without waiting on funds.
How could invoice finance support you in 2021?
Invoice finance provides a streamlined and balanced cash flow option for all types of businesses. It's also important to remember; this option is a lifeline and a helpful funding option to grow and enhance operations.
TSF Finance has a range of finance options for companies looking to explore flexible cash release with suitable lending partners. Our service takes the hard work out of finding the best solutions for your needs and accesses a wide range of options for the best rates.
The flexibility of invoice finance gives businesses the option of handling credit control in-house or passing everything to the lender to manage externally. This frees you up to focus on improving and growing your organisation in the post-pandemic market.
If you're looking to free up cash from overdue invoices, we can help you find the best invoice finance solution for your needs. Get in touch with us today.