2022 has felt like a very long year – and it is not over yet! The tumultuous events of the past few months have caused numerous challenges for SME owners. Thankfully, funding makes it possible to get back on track and end the year in a healthy financial position. Better yet, TSF Finance offers a variety of funding types for small businesses to help them as and when they need it.
Business challenges in 2022

s

o

f

ar
There's no escaping the current cost of living crisis that's plaguing the news. Bills are going up, and this can have both a direct and indirect impact on your business. Along with having to pay extra for energy, products, and other services, your customers also have to do the same – and that means they have less money to spend in other areas.
This volatile time has already been difficult enough for SMEs, but UK inflation is showing no signs of slowing down any time soon. The Bank of England's inflation rate target is 2%, yet it currently sits at above 10%. It expects the inflation rate to "slow down next year", which isn't ideal for SME growth in 2022.
Another major challenge businesses have had to face in recent years is supply issues. Problems such as higher prices, delayed deliveries and stock shortages have contributed to supply challenges for businesses across the UK.
What

d

o

y

ou require for business growth?
In today's climate, SMEs have had to rebuild and recover, which commands the need to adapt and innovate. This might involve diversifying their product lines and offering new services to customers; however, to make this a reality, there is an element that is more important than any other: money.
Funding is essential for businesses to make the necessary developments to grow during these trying times – and this includes introducing new products and services. With the challenges faced by UK companies in recent months, what type of business funding in 2022 is available?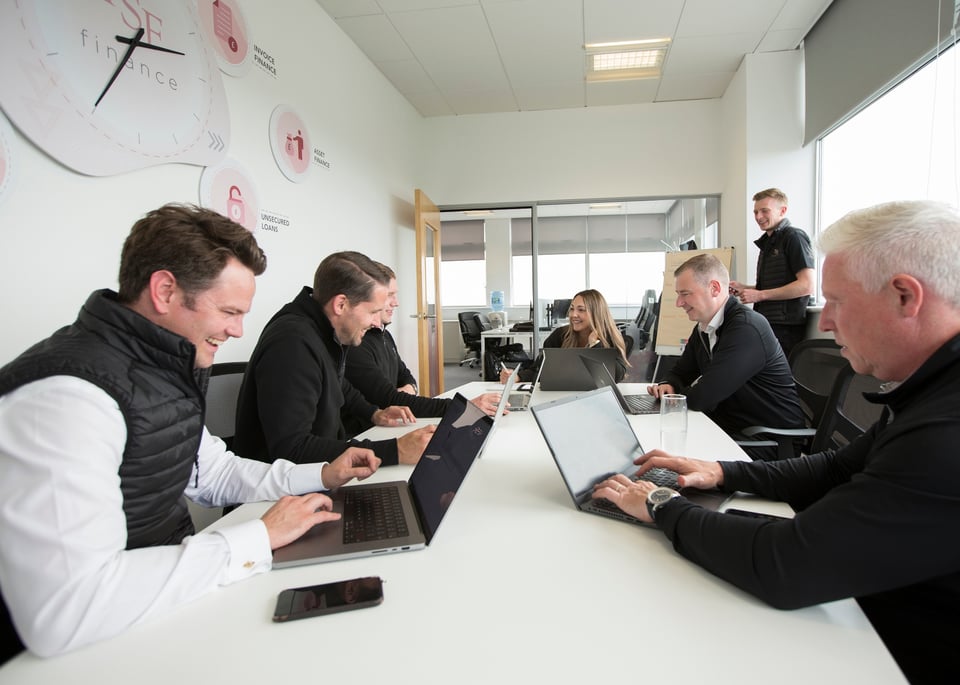 SME funding 2022

: what options

a

re

available?
The good news is there are various sources of SME funding to choose from in 2022. With these different types of funding options, a business can find one that aligns with its current needs.
Throughout 2022, a solution that has been growing in popularity is asset finance. This type of funding involves using a balance sheet asset – inventory, investments, etc. – as security against the loan. Asset finance is an easy way to secure working capital because lenders see it as a low-risk situation.
Lenders are unlikely to hand out substantial unsecured loans, given the present unpredictable business landscape. However, when an asset of value is used as loan security, lenders have less to worry about in terms of repayment.
Invoice finance is another smart option for SMEs to add to their funding repertoire in 2022. Unpaid invoices are becoming an increasing issue due to the numerous challenges listed above, which can harm cash flow. To ensure this doesn't happen, invoice financing – where you borrow money against what your clients owe – can keep the money coming in and prevent interruptions in your business's operation.
How funding

c

an

h

elp SMEs
Funding provides several benefits for SMEs. Here are a few ways in which the right financing can help:
Working capital

: A lack of working capital can quickly plunge your business into serious trouble. Funding can assist with bridging the gap and providing short-term cover when you don't have enough working capital on hand.

Asset purchase

: For example, a new vehicle or piece of machinery might be needed to maintain or grow your business. Funding can help cover the substantial cost of this purchase.

Expansion

: Financing is often required to grow and expand a business. Whether it's boosting your product and service range, moving into new countries or hiring additional staff, funding can turn your company's ambitions into a reality.
TSF's approach to working with SMEs
At TSF, we open the doors to various sources of business funding – but we don't simply let you walk through them on your own. We work with you to understand your circumstances and goals to create a unique, tailored financial plan that works best for your company.
If you're ready to restart your 2022 financial journey, get in touch with the team at TSF to discuss your options.