Our team at TSF Finance draw on years of experience combined to create the best possible funding outcomes for our customers - in fact, just last week we won our first award as the best NACFB Factoring & Invoice Discounting Broker of the Year. In the first of our series of meet the team blogs, we welcome one of our newest members, UK Operations Director Stewart Couper!
1. Tell us more about your career to date

From a young age, I have always had a passion for nice houses and old historical buildings. At school, I was drawn to Graphics and I was able to go to college and study Computer Aided Draughting & Design (CAD). As a way of making money and gaining experience whilst at college, I took a part-time job with a high street retailer and this was my first customer-facing sales role.

Due to the financial crisis at the time and the number of people applying for jobs (they had 20+ years of experience and I was just starting out) I was unable to find a job in my preferred field of architecture. After 3 years working in retail, I applied and was successful in getting a call centre job in Glasgow selling car insurance. I didn't really enjoy my time here but I am grateful for the experience as it brought me to Glasgow and I was able to meet people I never would have been able to.

I started to speak to a recruitment company and I managed to secure a job for the largest Foreign Exchange provider in the world. They are a fortune 500 company and this really opened my eyes and I learned a lot in a short space of time.

After some time here my phone started to ring quite a lot from recruiters and I was able to speak to Alan Anderson who was the Head Of Sales for Scotland for the largest independent invoice finance provider in the UK. I stayed there for 7 years, and this is really where my career took off. I experienced many roles and travelled all over the UK learning from as many people as possible. Without all this crucial knowledge, experience and hard work I wouldn't be the UK Operations Director at TSF Finance.
2. What does your typical day look like at TSF Finance?
There is no such thing as a typical day at TSF Finance. It just doesn't exist! One minute I could be trying to assist a large corporate with funding a £1,000,000 crane and then the next minute I am speaking to a new start logistics business that Is looking to fund a £15,000 van. You never know what kind of opportunity is going to cross your desk. I could start my day speaking to a business about an Invoice Finance opportunity and by afternoon I am discussing a commercial property loan with another company. By the close of business, I have spoken to someone about an unsecured loan to fund a management buyout.
My role focuses on support and by that, I mean trying my best to make my brokers lives as easy as possible. They need to trust me to be able to deliver for them. When they pass me an opportunity, they need to know I will do everything in my power to make sure their client is well looked after. My job is to speak to and work with the funders and make sure the process runs seamlessly from their application being input and their chosen facility going live. I spend a lot of my day on the phone talking to our funding partners to make sure all of our clients are well serviced and have been given the best level of service possible.
3. What attracted you to working for TSF Finance?
The opportunity to learn and develop. I feel working for TSF was the next logical step in my professional career. I have known the team at TSF for many years and have watched them grow at an incredible pace. I have always kept close to the Directors at TSF and when the opportunity to come on board was presented to me it was simply too good to turn down. I want to be able to use my skill set to help grow the business even further. The calibre of people working for and connected to TSF is extremely impressive. Everyone has their own special set of skills and the opportunity to work with and learn from them was a massive factor in my joining.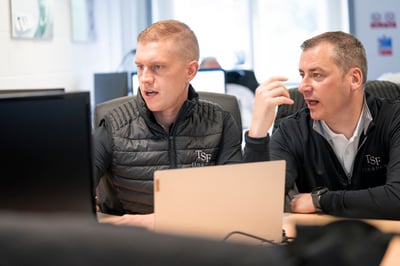 4. How do you think you can make a difference at TSF Finance?
The difference I hope to make at TSF is three-fold. Firstly, I want to ensure that as the backbone of the business, ensuring all our internal operations are running smoothly, that we can ensure we are offering our customers the most seamless process possible. Secondly, the level of experience I bring to the table in sourcing alternative funding for different organisations allows me to provide insights and recommendations our customers may not have initially considered previously. Finally, I have great ambitions, alongside the rest of the team, to grow this organisation. With the level of experience we have combined and the passionate work we carry out on our customer's behalf, I very much plan to be a part of the exponential growth we hope to see.
5. In your opinion, what makes TSF Finance stand out from its competitors?
My main strength is Invoice Finance. I have worked in Invoice Finance for 7 years and see myself as a specialist in this field. Overall, our team is made up of very experienced and knowledgeable individuals. We all have a unique skill set when it comes to funding. Throughout the team, we have specialists in Invoice Finance, Asset Finance, Unsecured Funding, Commercial Property, and Insolvency - just to name a few. We are strategically set up to be able to handle all customer requirements whether that be advice for a new start business or funding for a large multinational corporation.
6. In the current climate, what advice can you give to business owners with regards to their funding challenges?
That is a difficult question to answer. Over the last 18 months, businesses across the UK have faced challenges that they couldn't have possibly imagined.
Over the last decade, the UK faced uncertainty from the financial crash, we voted on Brexit and then to finish it all off we faced a global pandemic. This truly has been a distressing and troublesome time for UK business. Throughout the pandemic, many businesses remained open but due to regulations some simply were not able to. The Government made cash available in the form of Business Bounce Back Loans and CBILS and many businesses opted to take the relief and take the money. This assistance will slowly start to be withdrawn and many businesses will once again begin to look at the more traditional types of financial assistance. My advice would be to speak to a trusted advisor such as TSF and let us help get businesses back to the levels they once were. The road ahead is still uncertain and no doubt there will be bumps in it, but if we all work together and help each other I am confident we can get things back to some kind of normal sooner rather than later.
If you'd like to have a chat with Stewart about invoice finance, book a meeting in his calendar today.
Alternatively, you can connect with Stewart via his LinkedIn profile here.